Linkedin SSI Score: The Complete Guide
(+91) 9999 375737
hello@go.brandsamosa.com
Linkedin SSI Score: The Complete Guide
LinkedIn is the largest professional social networking platform with 660 million users which massively grown in 2020. It mainly focuses on networking, career enhancement, personal branding, and so on. People can use LinkedIn as a way to grow their personal reputation or to find jobs, career opportunity etc. and to navigate the world of LinkedIn, LinkedIn SSI score can be a great thing.
This professional platform has now become a way to get the best place in the market, but not every user is taking the platform seriously. Many users have the same problems, like not getting enough views on posts, less recognition among the LinkedIn community, and so on.
The worst part is users don't know where they are lacking?
If you want to invest your time on LinkedIn and want to find a solution to your problems, then you need to know about the "LinkedIn SSI score." Do you want to know about LinkedIn SSI? Let's get started……
Also see this: Getting High Engagements on LinkedIn Posts
What is the LinkedIn SSI Score?
LinkedIn created a Social Selling Index based on surveys and by analyzing the behaviour of the users. They conducted a study on 5000 sales representatives and observed how top performers behave? Firstly, SSI was not for everyone, but on August 3, 2015, it went free for everyone, where any user can check the SSI score.
The SSI score is nothing but a tool that calculates how a user establishes himself/herself as a professional brand. This tool helps users to enhance their profile and personal reputation. It calculates the measure of a company's or user's establishment based on the four foundations/pillars of LinkedIn on a scale of 100.
The 4 Pillars of LinkedIn SSI Score
 Personal branding
 Find the right people
 Engage with insights
 Build relationships
In simple terms, each of the above foundations/pillars has a score of 25, and the total score represents how established a user is on LinkedIn. Those who have higher SSI scores have better and effective profiles, then the one who has low SSI score.
Let's get in-depth and understand the 4 Pillars of LinkedIn SSI score
1. Establishing a Professional Brand
It signifies that you should have a complete profile means having a good profile picture, headline, summary, and of course, experience written in the profile section. Posting relevant content and engaging with the audience helps a lot in building your professional brand. Try to add a cover photo, adding top skills will attract prospects. Posting and uploading content is excellent, but content quality is most important—media content, which has low-quality results in low SSI scores.
2. Connecting with the Right People
Never send an invitation without looking at the profile, always go through the pattern. Growing the network and building the connection by interacting with those people who viewed your profile is also essential. Apart from this, try to connect with higher-level employees, engaging with the lower-level user can help you but not in a better way. Always try to communicate with those people who can help you in the future like influencers etc.
3. Employ Insights
Many users and employees find posting and sharing content on LinkedIn as one of the fascinating things, they enjoy this the most. It is found that the content and information which you find interesting are liked by your connection and leads as well. Try to keep your content real and up- to- date. Apart from this, try to be active on LinkedIn regularly. LinkedIn keeps an eye on the duration of productive hours.
4. Building Better Relationships
Not a single business or person can become successful without having the right network. LinkedIn allows us to build connections and to engage with the users who can be beneficial for the respective growth. The SSI score also measures the user's connection and the request acceptance rate. So, it's better to reach the most relevant connection and make new relevant connections as well. You are making new connections that are not a good fit for your network will not add any point to your SSI score. Try to build connections that suit your existing network. Never send requests to those who may not be interested in your profile. It will only lower your SSI score.
Always keep in mind that the SSI score only gives ideas about how you engage on LinkedIn. LinkedIn SSI score is the overview of your social engagement LinkedIn. It tells you about your profile strength etc. 
Now you must be thinking…
How to check the SSI Score?
To check your SSI score, you need to login to your LinkedIn profile after that; you just need to search it on Google (search "LinkedIn SSI Score"). There are many sites that provide free service to check your SSI score; it can also be checked on the LinkedIn website as well.
Follow these simple steps to check your LinkedIn SSI Score
.
Firstly login into your LinkedIn account
Go to Google search or type "how to check LinkedIn SSI score?"
In the search result, just click on any site. It will take you to a link from where it will show your SSI score, or it will directly show your score.
You can also check it through this URL. We think knowing the SSI score is not enough; after all, we humans always want to know how good or bad we are? So, this leads every reader to one question

.
What is a Good LinkedIn SSI Score?
Before answering this question, first, you need to know SSI score ranges from 0 to 100. Depending upon your interaction, engagement, networking, etc. you get your SSI score. A good SSI score is somewhere "between" 80 to 100. On average, most of the users have scored less than 70. Nowadays, people are showing their interest in LinkedIn, but they are not using the platform the way it should be used, and that leads to a bad SSI score.
.
Generally, LinkedIn users just scroll up and down; it is usually seen that many users only send requests to increase the no. of connections. LinkedIn is more than sending requests or inviting people. Sharing thoughts, ideas, facts, etc. can lead to better interaction with the LinkedIn community.
How to Increase your LinkedIn SSI Score?
1. Invest your time to complete your profile
One of the easiest ways to increase your SSI score is to complete your profile. That means to fill each and everything, leave no space blank even if it is optional. Try to write everything. Your education qualification, job description, write a summary, mention all the certification courses, and create an outstanding headline. Apart from this, upload a professional photograph to avoid casual pictures. Try to add more valuable media to like videos and document files.
2. Use advanced search tools when you search for new connections
It is one of the important things to find the right connection. Finding the right prospects and building connections with them will eventually lead to social selling. After all, social selling is one of the most important things. To achieve better SSI score, try to use advanced search in the most effective way.
How to find the right audience on LinkedIn? 
.
1. Sorting function
LinkedIn has, by default sorting means it shows search results based on relevant keywords and there are many filters/preferences which you can set according to your need. This is a helpful and time-saving feature.
2. Boolean operator
If you are not using the premium version of LinkedIn, then try Boolean operator while conducting an advanced search; it will lead to the most accurate search results.
 Let's understand Boolean operator: Boolean search is a combination of keywords with operators like AND, OR, and NOT.
Here are some technique to use the Boolean operator
.
Quoted searches: to search a multi-word name or title, use quotation marks with exact phrases. But curly quotation symbols (") aren't supported.
NOT search results: when searching for something that is very specific just add NOT. This helps limit your search results. Example- "manager NOT programmer"
AND search results: to find all items, type the word AND with the search keywords. Example- Marketing AND Sales.
OR search results: to make your search results broader use OR with your keywords.
This Boolean operator will make your search results better, try using it.
.
3. Try to interact with the audience regularly
Interact with your network on a regular basis; otherwise, the SSI score can fall. One of the best ways to interact is to comment, like, and share. Doing these things can help a lot. Other than this, you can also share your own content or anyone else content, which you find effective and beneficial. Sharing contents which are not relevant but useful for the audience can also work well for you.
Doing these things builds belief and trust in the LinkedIn community. People start seeing you as a source of information. It acts as a source of conversation.
.
Try to join groups on LinkedIn: getting placed in new groups can make your acceptance rate better, leading to better SSI scores.
Interacting with potential customers and trying to engage in good conversation. Always make sure the discussion should be short and precise.
Build and grow your network; send requests to your colleagues and friends who have the same mindset as yours.
Don't just send requests on LinkedIn; send personal note/messages with a warm introduction while sending a request to connect. Doing this can make your acceptance rate better.
Till now, we have discussed many things about the LinkedIn SSI score, but you must also be thinking
 
Why is the LinkedIn SSI score so important? 
.
LinkedIn says that higher the SSI score better the company's or individual's sales objective. It says that a better score leads to better sales opportunities and more productivity. The ultimate goal of SSI is to provide the salesperson with a real-time study of where they are now in terms of social branding.
Studies have found that SSI is directly linked to business goals or objectives. Those who have more or above 70 SSI scores create more opportunities than those having less SSI scores.
It tells about where improvement is required and where you stand as compared to your networks. Social Selling Index also helps in professional user development. Social Selling Index gives you an idea about your profile; it tells you about the area where you can improve. SSI score gives an overview of your LinkedIn activities. Moreover, it becomes clear which activity or post is producing better results for the growth of the business or personal branding.
.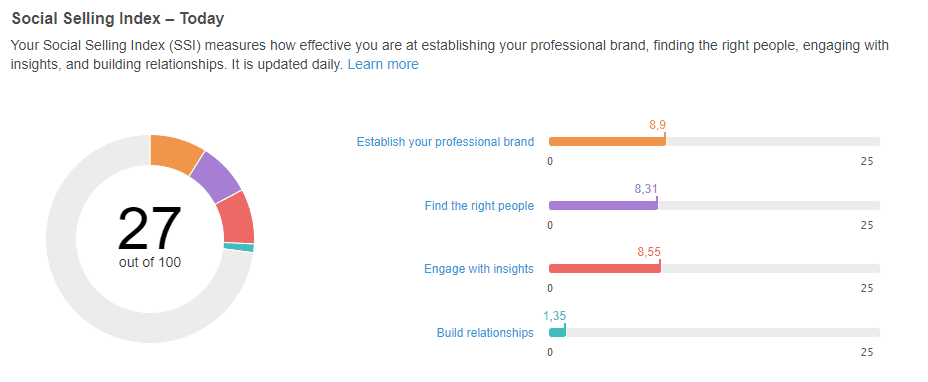 In the above image, you can see the overall SSI score out of 100 is 27, which is not good at all. So as an individual, it becomes easy to understand in which area you need to work more. Finding the right people and engaging with insights is quite average, which can be improved as well. Building relationships has the worst numbers; it requires lots of improvement. It is clear from the score that the user needs to invest time in all four pillars but he needs to work more on building relations.
LinkedIn says that high LinkedIn SSI score leads to more sales growth. In other words, it will help you to attract a suitable client for your business and also portray you as a leader. 
For example, LinkedIn revealed that users who are active on the platform get 45% more sales openings, which hits 51% more quotas and has 80% more productivity. It becomes quite clear how important the SSI score is? As a LinkedIn user, improvement can be made just by analyzing the score, leading to a better experience, more sales & productivity.
After reading the above information about Social Selling Index, about its importance, how to increase your SSI score, etc. Hopefully, we can say that now you as a LinkedIn user will not find yourself in the middle of confusion and problems.
Hope this article is helpful to you. For such more information register yourself on our website.
See also: 1 Biggest Reason for you to Delete LinkedIn Account [2020]
Know more about us: LinkedIn | Facebook | YouTube
.
Tag Post : Share This :
Grow Your Business Today
Generate More B2B Leads Consistently without investing too much time on Social Media

Get Started

Looking to Generate Leads For Your Business?
Generate leads that actually convert into business – faster. Build credibility by targeted & platform-specific content strategy, Reduce your sales cycles by engaging with your target customers, and building relations with the decision-makers.
Other Pages
(+91) 9999375737
hello@go.brandsamosa.com
A1C, Ground Floor, Sector 16, Noida
Copyright © 2021 – All rights reserved.